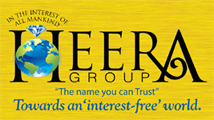 "All Praise Is For Allah Subhana Wa Taala
The most Gracious And the Most Merciful
Who made Us Muslim So as To serve Mankind
And be a dayee Of Islam "
"Millions Of Thanks To Almighty ALLAH, For All Blessing On Heera Group Of Companies, That It Can Serve Mankind."
Heera Group At a Glance
Thank you For your interest in "HEERA GROUP"!
The Heera Group, Founded by Ms. Nowhera Shaikh in the year 1998, is India's one of its kind , private sector enterprise, with business in the commodity and educational value chain.The Indian conglomerate company was founded as Heera Group of companies 23 year ago by Dr. Nowhera Nanne Saheb Shaik. Heera Group is a pioneer in the gold trading business , with its central office in Hyderabad and branches all over India, UAE and other Middle East countries. The group encompasses in various business sectors like Gold Trading, Textiles, Jewelry, Mineral Water, FMCG, Finance, Hospitals, Retail, Granite, Tours & Travels, Real Estate, Electronics, E-Commerce etc.

Heera is well-determined the entity with interest into businesses of diverse nature as a conglomerate lead by the first Muslim woman of India Ms. Shaikh. She is a renowned women entrepreneur, giving a new definition to modern business. Serving mankind will have been the cornerstone of the evolution and growth of Heera. Starting with a small educational institute, basically for orphans, Heera has Globalised itself in distinctive fields.

Heera owns the largest warehouse at UAE, holding a textile manufacturing unit in China, and a mineral water plant at Hyderabad.

Heera is organized by a highly integrated resource such as competent management, requisite infrastructure, dedicated manpower and well-laid marketing networks.Heera's logistics are superior in comparison to many others through which it religiously meets prefixed deadlines.

Heera is into the Business of trading and Product manufacturing and has a strong presence in quite a few countries. Though chiefly centred in India,Dubai, UAE.

The Heera Group is a living declaration to Dr. Nowhera Shaik's spirited will, determination, dedication and an inexorable commitment to his goals. The energy, the inspirations, the values are inculcated in the spirits of Heera Group by its MD through her thoughts that are manifested in her quotes at various Meetings.